Creating a webhook subscription is a two-step process. You'll first need to set up how you want your webhook to behave and what events should it listen to. After that, you'll set up your server to receive and manage the payload.
Subscribe via the Partner Portal

To set up a webhook, go to the Webhooks page of your Partner Portal. You will only see this page if you have the appropriate permissions (ask your administrator).

From there, click the New button.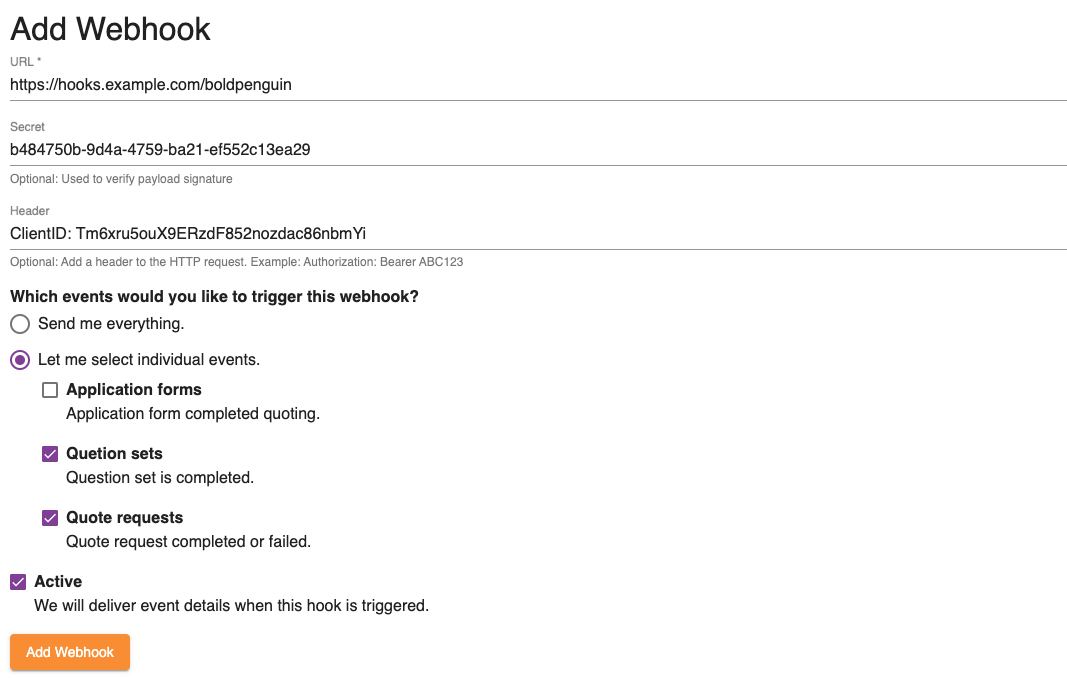 Configure the necessary fields as described below. When you're finished, click Add webhook.
Subscribe via the API

Alternatively, you can choose to create and update your webhooks through the Webhooks API.

NOTE: You cannot use the Partner Portal to edit subscriptions created or updated using the API. Since the webhook interface in the Terminal only supports a subset of the API, you must choose either the Terminal or this API for managing webhook subscriptions.

For instance, the API allows you to manage subscriptions down to the subject:action level while Partner Portal only allows you to filter down to the event.
Configuration

Webhook subscriptions require a few configuration options before you can make use of them. As a general rule, for a subscription to receive events it must have the following minimum configuration:
A valid, accessible endpoint URL
One or more valid event types (or a wildcard)
Active set to true
Endpoint URL

The endpoint URL of the server that will receive the webhook POST requests. This endpoint should be secured via HTTPS to ensure end-to-end encryption.
Secret

Setting a webhook secret allows you to ensure that POST requests sent to the endpoint URL are signed by Bold Penguin. When you set a secret, you'll receive the X-Signature header in the webhook POST request. See securing webhooks for more information and working with payload signatures.
Header

If your server requires the request to contain a static header for authentication or other purposes, you can configure that here. headers must follow the format Name: Value.
Events

Events are at the core of webhook subscriptions. Webhooks fire whenever a subscribed event occurs, which your server's endpoint URL receives and acts upon.

You can subscribe to one or more subjects or the wildcard event. Using the API, you can also subscribe to individual actions for a subject.

A full list of webhook events, and when they execute, can be found on the event payloads page.
Active

By default, webhook deliveries are inactive. You can enable the delivery of webhook payloads by setting Active to true/checked.